2023 NZ Taiwan Day Chinese Culture Experience Trip
Are you ready for the upcoming Taiwan Day, after a long wait of three years? This year, we have prepared a unique art and culture exhibition, combining Western and traditional Chinese painting, calligraphy, floral art and using augmented reality (AR) of Chinese characters to showcase Taiwan's diverse culture. Come and immerse yourself in the traditional and innovative artistic atmosphere and appreciate Taiwan's spirit of inclusiveness. Let's use art to soothe our souls and explore the beauty of Chinese characters together.
暌違三年的臺灣日即將到來!今年,我們特別為大家安排了一個獨特的文藝展示區,透過西畫、國畫、書法、花藝等藝術,並結合漢字AR數位科技,來呈現台灣的多元文化,讓您在傳統與創新的文藝氛圍中品味臺灣兼容並蓄的精神。讓我們一起用藝術撫平心靈,探索漢字精妙之美。
Each year, the traditional knot exhibition has always been well received. Teacher Chan is back this year to showcase this traditional art in the Cultural Experience & Exhibition.
At this years NZ Taiwan Day, you can bring along your teapot to have a beautiful knot added on. Teacher Chan will wait to see you there.
美麗的傳統繩結由詹玉嬌老師熱情推廣,在例年紐西蘭臺灣日每一次的展覽中,都是大受好評;今年玉嬌老師會在2023紐西蘭臺灣日文化體驗區内現場教學「绑茶壺」,若您家中的茶壺想要綁上美美的繩結,都可以帶來現場,詹老師邀您戀上千千結~
Modern Hard-Pen Calligraphy 現代硬筆書法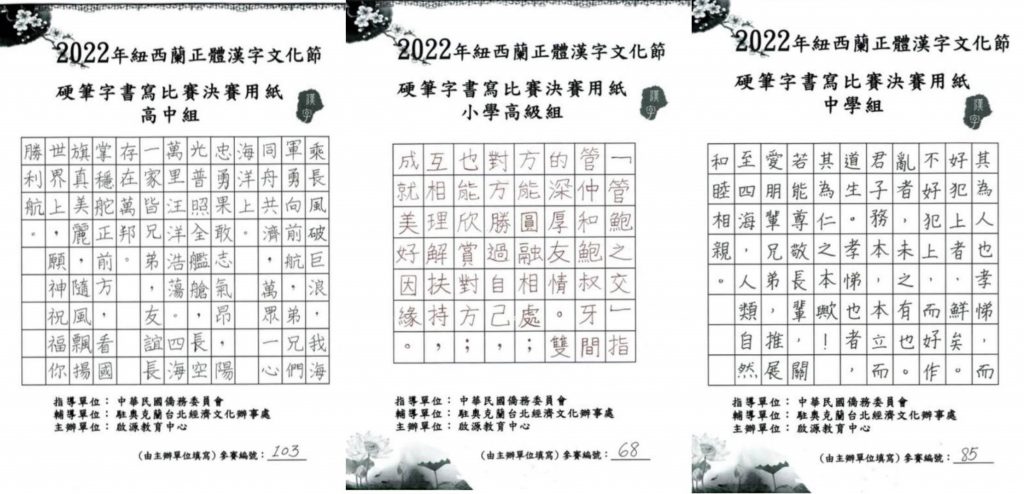 Hard-tipped pen calligraphy gets its name because the tip of the pen is hard and characters take a different form opposed to if written by the soft tip brush. It is also called "hard-tipped pen calligraphy" because it also has the traditional calligraphy art form. Its writing tools includes fountain pens, ballpoint pens, dip pens, pencils, and more.
The "National Hard Pen Character Writing Competition" hosted by Chiyuan Education Center started in 2017 and has entered its seventh year. In addition to the exhibition of last year's award-winning works at 2023 NZ Taiwan Day, you can also register for this years competition on the spot. 
Website: http://www.chiyuan.co.nz
硬筆書法,因筆頭質地堅硬有別於毛筆的軟頭所寫出的字,所以稱之為「硬筆字」,又因為也具有傳統書法藝術形式,而稱為「硬筆書法」,它的書寫工具包括鋼筆、原子筆、蘸水筆、鉛筆等。由啟源教育中心主辦的「全國硬筆字書寫比賽」,從2017年開始,今年已經邁向第七屆。今年的比賽,也已經開始,在台灣日的現場除了有去年得獎的作品展覽,也可現場報名比賽,歡迎關注這個比賽。
網址: http://www.chiyuan.co.nz
Experience the Beauty of Taiwan Indigenous Architecture through VR
It may be difficult to appreciate the beauty of Taiwan's indigenous architecture and experience their living environment in person. However, you won't want to miss the "Explore the Beauty of Taiwan Indigenous Peoples' Architecture" VR experience at the New Zealand Taiwan Day! Virtual Reality (VR) is an immersive computer simulation environment that allows users to feel like they are really there, as if they are in a virtual space. The VR experience, brought to you by the Feng-Xing Digital Learning Centre, instantly transports you into the traditional architecture of Taiwan indigenous peoples when you put on VR glasses. Take some time to experience it and feel the unique cultural charm of Taiwan indigenous architecture, which combines different building materials found in nature.
您或許很難有機會欣賞到臺灣原住民族傳統建築之美,也難以親身體驗他們的居住環境,但這次紐西蘭臺灣日的「探索臺灣原住民族建築之美(VR體驗)」活動,您一定不可錯過!
虛擬實境(Virtual Reality, VR)是一種身臨其境的電腦模擬環境,能夠讓使用者有身臨其境的感覺,仿彿身處在虛擬空間之中。由鳳興書院數位學習中心帶來的VR體驗,戴上VR眼鏡,瞬間帶您走入原住民族的傳統建築。不妨抽空前來體驗,感受臺灣原住民族建築融合大自然不同建材所展現的獨特文化魅力。