The children's choir of Jiaxing elementary school Taiwan 嘉興國小合唱團義興分校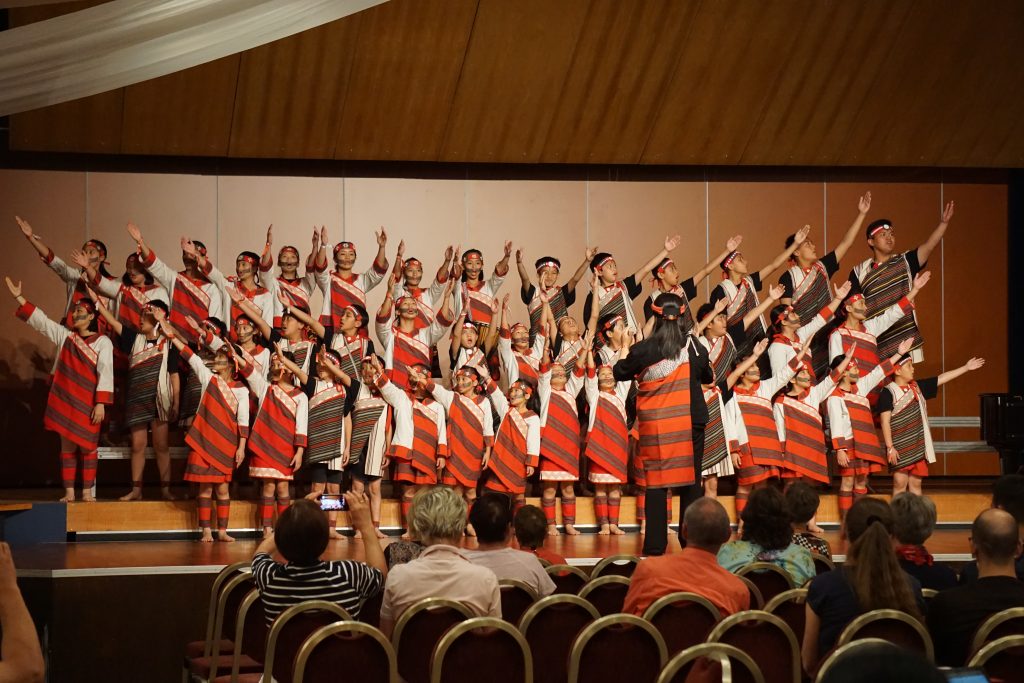 The children of Nahuy and Matuy are required to attend Jiaxing Elementary School and Yixing Branch respectively. Jiaxing Elementary has 67 students in total, and Yixing Branch Campus is very small with only 20 students. The age of the students is between 6-12, and more than 96% of the students are Atayal children (the third-largest aboriginal group in Taiwan). In the hope of engaging students in a dynamic learning environment, a choir program was brought into the curriculum since September 2016. With the teachers' dedication, the musical courses have helped the students rediscover their own traditional culture and further appreciate the ancestors' legacy by singing the Atayal folksongs and playing the tribal instruments. The children went to Vienna to participate in the 31th Schubert Choir Competition in June 2018, and then went to Wernigerode, Germany to participate in the 11th Brahms Choir Competition in July 2019. In two years of participating in international choir competitions, the children have won three Golden medals and two Special Jury Prize. They are looking forward to meeting new friends at the 2023 NZ Taiwan Day.
新竹的泰雅族馬胎部落,嘉興國小合唱團義興分校全校約21 人,除了1年級新生,每個孩子都是合唱團成員. 山裡沒有才藝 補習班,沒有城市小孩的學習資源,但現實環境阻擋不了夢想 的腳步,他們透過合唱團找到了自信和生活的力量. 從窮到沒錢 出國到㇐舉奪金,在歐洲舞台-舒伯特合唱競賽,榮獲第31屆舒伯特國際合唱大賽賽會最高獎項金質獎和特別獎,這個偏 鄉合唱團瞬間獲得了全台注目。讓台灣天籟登上國際舞台.
紐西蘭臺灣日這次非常榮幸邀請到新竹縣尖石嘉興國小義興分校合唱團的孩子們連同新竹縣尖石國中、尖石國小、嘉興國小、新樂國小與桃山國小組成之泰雅族tnunan策略聯盟,於紐西蘭臺灣日開閉幕活動擔綱節目演出並與紐西蘭本地分享泰雅族人文藝術、音樂舞蹈、美食商品與豐富的原住民族文化,千萬不要錯過!
NaLuWan Dance Troupe 娜麓灣樂舞劇團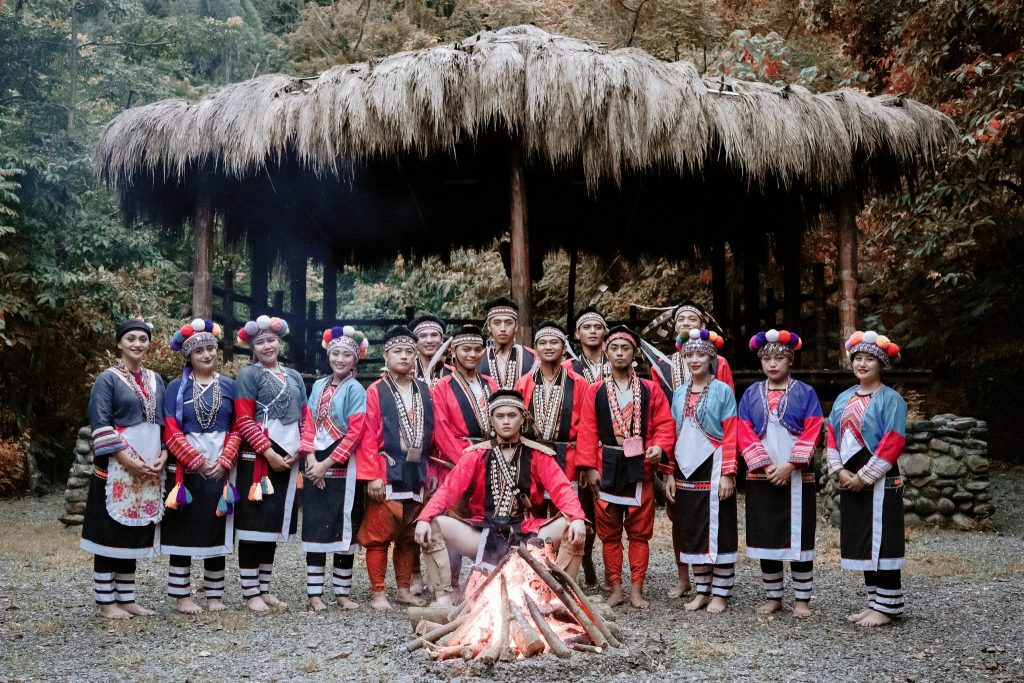 The NaLuWan Dance Troupe was established in 1990. Currently the Troupe belongs to the Indigenous Peoples Cultural Development Center, Council of Indigenous Peoples and is the permanent performing group at the Cultural Park. The Troupe has a total of 40 members and performs traditional dances and traditional rituals from all of the sixteen indigenous tribes in Taiwan.
Aside from many oversea performances, every year, the troupe hosts a nation-wide tour in Taiwan to promote traditional music and dances in Taiwan and to provide another option for mainstream society to appreciate Indigenous cultures. Indigenous music and dance of Taiwan is gaining popularity both domestically and internationally. The Troupe works hard to develop new performances by integrating technology, leading indigenous music and dance to a delicate and professional culture that can proudly stand in the mainstream in the world of art.
The NaLuWan Dance Troupe look forward to showcase Indigenous music and dance of Taiwan at 2023 NZ Taiwan Day. Na Lu Wan Dance Group on Facebook.
娜麓灣樂舞劇團是目前官方設立,由原住民族委員會指導,原住民族文化發展中心扶植的劇團。劇團成立於 1990 年初春,常年駐園於屏東縣瑪家鄉的台灣原住民族文化園區,亦常受邀參加國內外節慶及藝文等活動展演,所有團員之專業展演頗受國內外人士肯定而所有展演內容均透過實地部落踏查及訪談,以部落為主體,將臺灣原住民族 16 族群樂舞紀錄彙整,透過詮釋轉化為表演藝術的形式,向全世界推廣台灣原住民族珍貴文化。娜麓灣樂舞劇團將來到紐西蘭臺灣日帶給大家以豐富多元形式,呈現不同風貌之樂舞文化,非常值得觀賞。
Sangpuy (Musician) 桑布伊.喀達德邦 ( Sangpuy.Katatepan)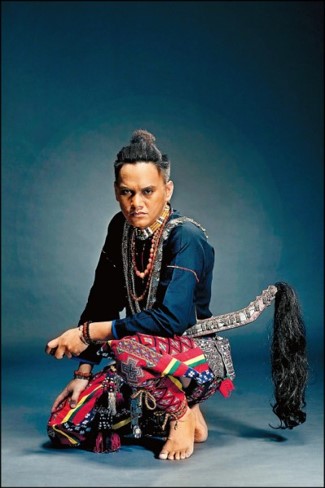 Originally a member of the legendary music group Feijuyuenbao Synectics, Sangpuy has shown his great talent through singing, playing the self-made nose flute and jaw harp.
Focusing on collecting and researching the aboriginal culture, they sing songs against the cultural colonialism, capitalism and unfair treatment from the han people.
Powerful and spiritual, Sangpuy's debut album "Dalan" (路) has won many different awards. Singing his experiences living in the KaTaTipul (卡地布部落) of Taitung, he tries to express his love and cherishment of the beautiful environment and hopes to wake up the general public to face the unfair and brutal land acquisition by the government.
Sangpuy's new album "Yaangad" (椏幹) continues the appealing journey of what a living music could be. The debut single from this new record, "Sadeku Na Senan" (溫暖的光) – which means "Light" – expresses love of the beautiful moon and stars. Through Sangpuy's soulful voice, you may regain the long lost feeling of our nature.
Sangpuy on Facebook.
桑布伊出⾝台東知本卡地布部落的卑南族.自小即對音樂展現出深厚的天份,成⻑過程中幸蒙部落⻑輩的細心教導,讓桑布伊的獨特嗓音獲得淬煉,也讓桑布伊習得日漸失落的族語、族語歌與⽂化底蘊。早期曾經在⾶⿂雲豹音樂⼯坊與野⽕樂集參與團體演唱與合輯錄製,在2012年由以自⼰的家姓為名的卡達德邦⽂化⼯作室發⾏個人第㇐張全族語專輯『桑布伊同名專輯 – dalan』,並以此專輯獲得第⼆⼗四屆流⾏音樂金曲獎五項提名,最後並取得最佳原住民歌⼿獎。
桑布伊將特別在紐西蘭台灣日分享㇐系列的卑南族傳統歌謠,用歌聲、樂音,引領現場觀眾⾶越重山海洋,領略台灣原住民族文化的豐厚與多元。將與現場觀眾分享他厚實的卑南文化涵養,以及豐沛的音樂能量. 雲門舞集創辦人與藝術總監,作家、舞蹈家與編舞家-林懷民曾讚「當了⼿機,也要去聽桑布伊」 ⼆度拿金曲獎的原民農夫! 絕不容錯過來紐西蘭聽聽以歌聲傳頌智慧,黑到發光的力量!
Kapa haka by Te Ropū Manutaki 毛利傳統表演團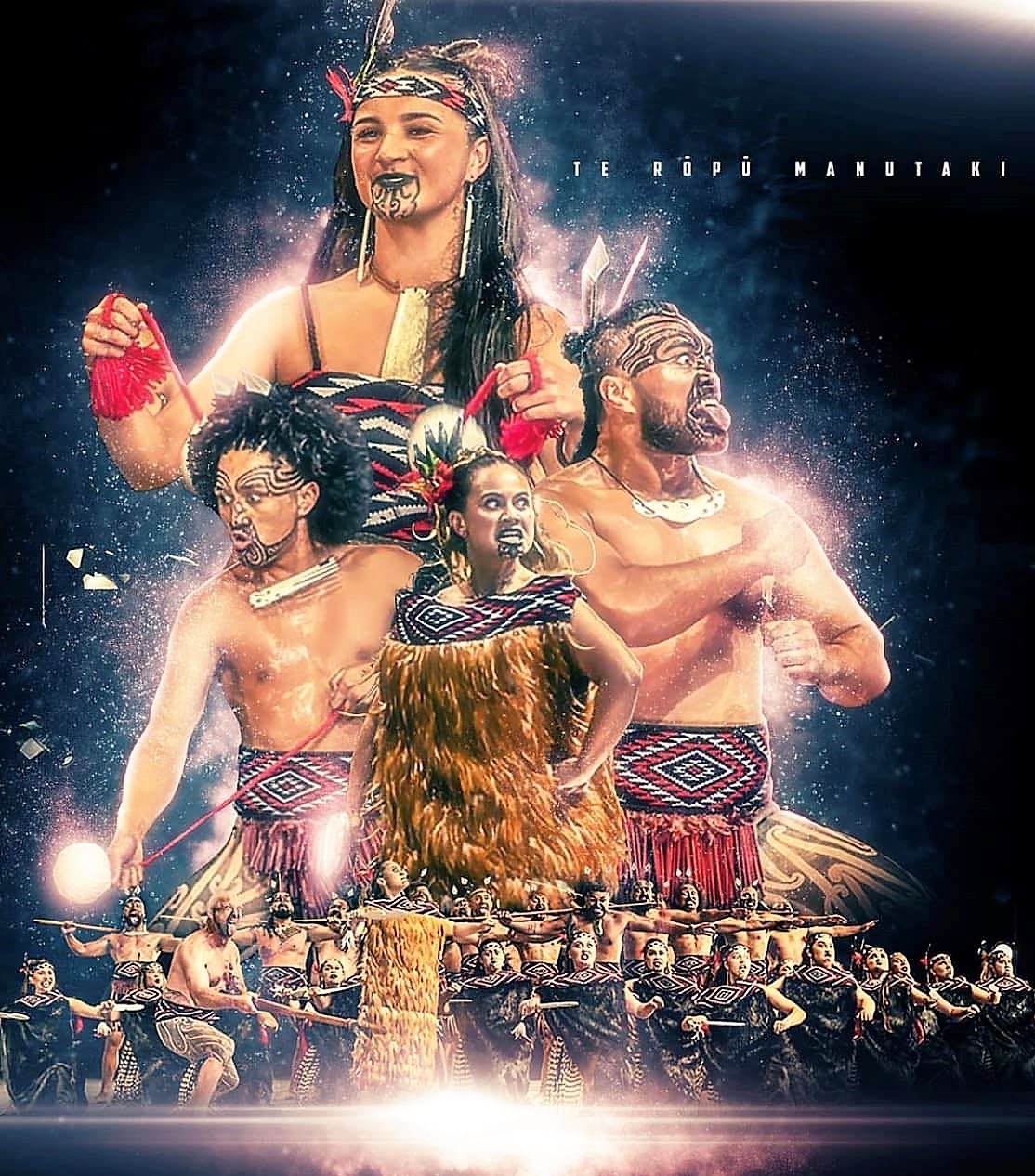 Hoani Waititi Marae was the birth place of Te Rōpū Manutaki, a haka group that was formed by Dr Pita Sharples in 1968 as the founding tutor and leader. Te Rōpū Manutaki are now in their fourth generation of performers, where the world and the language has changed, so their style of performance has changed too. Excluding 2013, Manutaki has represented Auckland at every Polynesian Festival, ATMPAS and Te Matatini Festival since the national Kapahaka competition began in 1972.  Manutaki has won the nationals on 2 occassions. 
Manutaki has toured extensively overseas representing Aotearoa and promoting Māori weaponry and traditional Māori performing arts to the world. NZ Taiwan Day Opening Prayer on 10th March 6pm will be lead by Manutaki also tremendous Kapa haka performance later evening.
由前毛利部長 Pita Sharples 博士於 1968 年創立。Te Rōpū Manutaki 現在已衍生至第四代表演團隊, 自 1972 年參與全國 Kapa haka 毛利戰舞比賽,除了 2013 年之外,Manutaki 代表奧克蘭參加了每個波利尼西亞音樂節、ATMPAS  和  Te  Matatini  音樂節。Manutaki  曾兩次贏得全國比賽,亦曾代表。Aotearoa 紐西蘭多次赴海外巡迴演出,向世界推廣傳統毛利表演藝術。Te Rōpū Manutaki 表演團將於。3 月 10 日為紐西蘭臺灣日開幕儀式祈福,並帶來精彩的毛利傳統舞蹈表演!
Kapa Haka performance by Papatoetoe Intermediate School Papatoetoe 中學「哈卡」舞 表演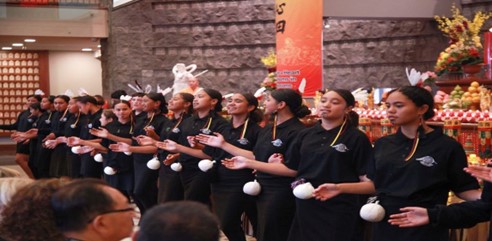 The purpose of our Kapa Haka roopu is to support our Māori students to embrace their links to Te Ao Maori. Kapa Haka also allows them to tap into their Māori language and culture but importantly to identify who they are through the art of performing. During Buddha's Birthday Celebration on 11 April 2021, 24 students from Papatoetoe Intermediate School performed a Traditional Maori Song and Kapa Haka War Dance for the grand ceremony with great enthusiasm. The sincerity and energetic performance impressed the audiences. 
Papatoetoe Intermediate School will be performing Kapa Haka to welcome all guests to the 2023 New Zealand Taiwan Day.
「哈卡」舞是紐西蘭原住民毛利人戰舞,會在婚宴喜慶、送別宴、運動比賽前跳上這支舞,以激勵當事人在新的征途中,彷彿勇士般過關斬將、順順利利、百戰百勝。
在 2021 年 4 月紐西蘭佛光山的佛誕慶典,24 名Papatoetoe 中學學生以極大的熱情為莊嚴隆重的儀式表演了毛利傳統歌曲和哈卡戰舞,真誠而充滿活力的演出給觀眾留下深刻的印象;該次演出,不僅為大眾提供了一個分享傳統毛利文化的舞台,也讓學生們有機會接觸不同的文化。Papatoetoe 中學將以精彩的哈卡舞表演熱烈歡迎參加紐西蘭臺灣日的來賓們!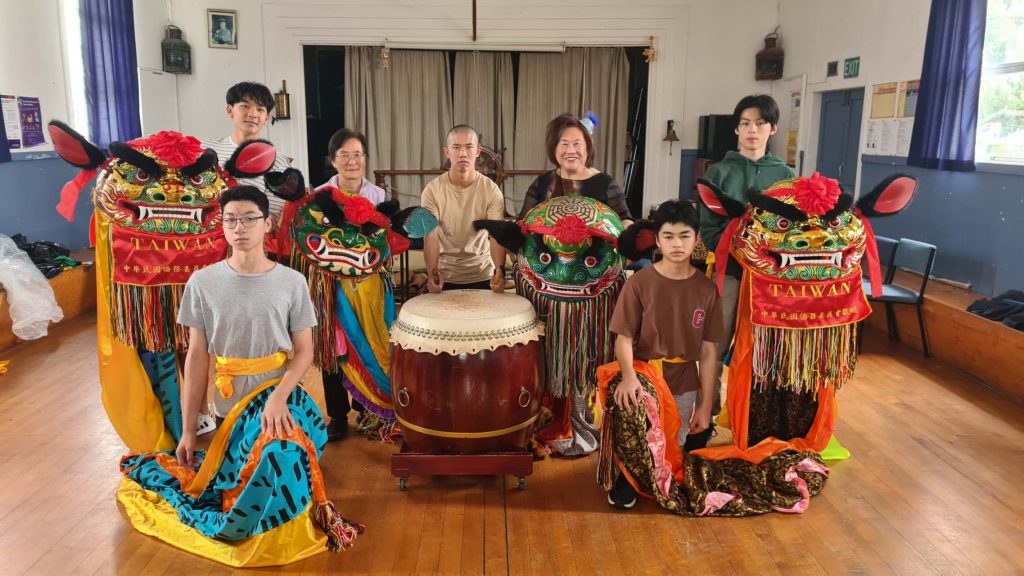 Lion dance is a form of traditional dance in many Asian countries which symbolizes to bring good luck and fortune. In the Northcote area, there is a group of enthusiastic boys who are keeping this tradition going. From intermediate school to now attending different high schools, their eagerness towards this art form pushes them to continue practicing which enables them to perform in school events and public events.
We welcome these boys to perform at this year's NZ Taiwan Day where they will help showcase the Taiwanese lions.
踩著『鼓』點,獅隊男孩們週末排練,準備再出發啦!!
北岸 Northcote 地區有一群熱愛舞獅的大男孩們,他們身懷在 Intermediate School 習得的這項民俗技藝,除了在當時校內的活動中,展現傳統舞獅的喜慶、熱鬧外,也不時應邀至其他學校或社區服務。如今男孩們雖然已長大升入不同高中就學,但仍然心繫舞獅文化活動,在Jacky隊長熱心召集安排下,偶而獅隊男孩還是會共同合作,將這項集武術與技藝特色的華人文化,繼續在當地社區傳播下去。一向推廣文化傳承的紐西蘭台灣日年度活動,2023年也鄭重邀請獅隊男孩,為紐西蘭的多元文化共盡一份心力,3月10日 星期五 6點 他們將為紐西蘭
臺
灣日開幕表演,兩天活動中他們的獅隊也會在現場文化區與觀眾互動,別忘了,來玩喲!
GFCBW NZ Choir Group 紐西蘭世華合唱團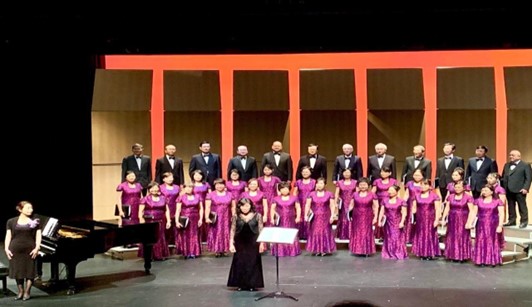 A group of enthusiastic choral singers under the leadership of Ms. Teri Cheng (Formal chairwomen of GFCBW NZ) is as vibrant and dynamic as ever! The group has been performing at various events, including Handover Event of GFCBW NZ various charity events, and Presidents Cup Competition Tour in Taiwan.
Its members, wide-ranging in age, work intensely at rehearsals and are passionately committed to the music they sing. Bringing a unique blend of artistic excellence, professional polish and community spirit to their performances, they are proud to be part of The Taiwan Day performances will be performing Pokarekare Ana along with the Gold medallist children's choir of Jiaxing Elementary School.
紐西蘭世華合唱團團員由一群來自各行各業熱情洋溢且愛好合唱的朋友所組成,團選曲目多樣,包 含中外現代合唱、藝術歌曲、台灣民謠……等。在紐西蘭世華前任會長程高玉霞女士帶領下,世華合 唱團在多項大型活動演出,包括世華紐西蘭分會交接活動、慈善音樂會以及臺灣的總統杯巡迴賽等, 均獲得廣大迴響。世華合唱團將在 3 月 10 日臺灣日開幕式領唱紐台國歌,並與在歐洲舞台贏得金質獎和特別獎的嘉興國小暨義興分校合唱團共同演唱毛利情歌 Pokarekare Ana,世華合唱團刻緊鑼密鼓加緊排練中,將盡全力呈現最精采的演出,且讓我們拭目以待!
The Formosa Chamber Orchestra 福爾摩沙弦樂團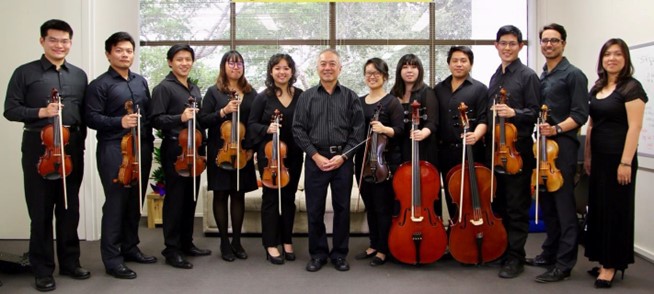 The Formosa Chamber Orchestra was founded in July 2018 with a goal of gathering the Taiwanese and their children who love chamber music to work together to form a chamber orchestra that is able to play Taiwanese folk songs.
Presently the members of the orchestra are second generation of Taiwanese immigrants, including high school students, students from music department of the Auckland university, doctoral student and people from all walk of life.
They will regularly share their holidays to practice Taiwanese and western music in the future. The Formosa Chamber Orchestra look forward seeing you at the NZ Taiwan Day event.
福爾摩沙弦樂團成立於 2018 年 7 月,成立初衷是期望能集合愛好室內音樂的台灣移民及子弟,一起組成一個能演奏台灣民謠的室內樂團。目前樂團成員都是臺灣移民子弟,有高中生、奧大音樂系學生,也有博士班研究生以及各行各業從業人員,他們利用假日定期聚會,練習臺灣及西洋樂曲。
福爾摩沙弦樂團將在臺灣日 3 月 11 日周六下午演奏「蘭陽舞曲」、「西北雨直直落」及「Mozart Divertimental KV 138」等曲目,喜愛音樂的您請千萬不要錯過喔!
New Zealand Asia Association 紐西蘭亞洲聯合會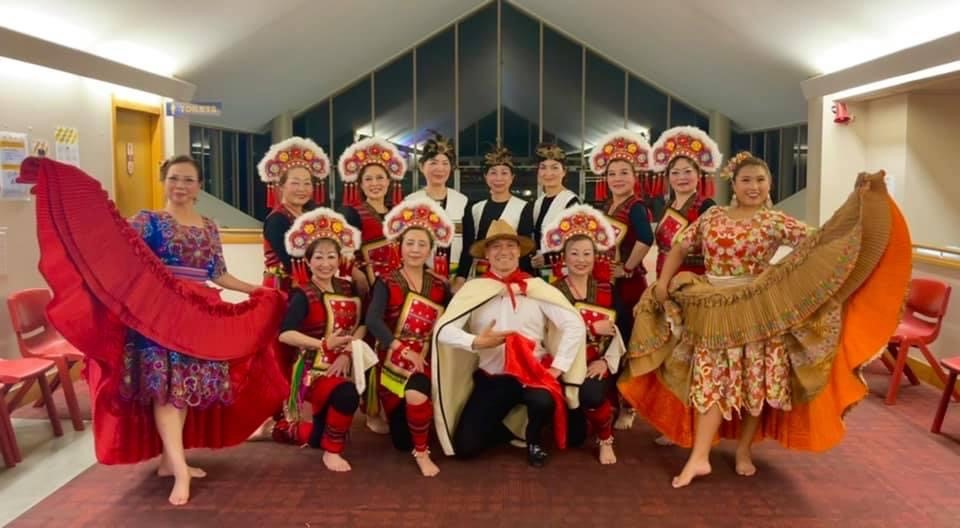 NZAA's main focus is on multi-cultural exchange and holds a number of activities. Member come from various countries such as Brazil, Chile, Malaysia, Singapore, Philappines and many more. 
On Saturday 11th March, the NZAA will showcase a number of dances in the outdoor area at 12pm.
-A contemporary version of a traditional Chinese fan dance by the Starlight Art Dance Troupe of the Chinese Women's Association. Leader Sharon Tang
-A delightful Spanish Dance by Ana Maria de Vos Sanchez
-Join Mouzghan Shabani with the footsteps of an Iranian dance.
-Tusuy Peru
NZAA 在星期六12:00pm – 12:30pm 有一場互外廣場異國風情的表演:西班牙、伊朗、袐魯和摩登中國舞,舞者還會邀請現場觀眾共舞特別的舞步。
紐西蘭亞洲聯合會的主要性質為多元文化交流,和活動如Race Relation Day , 多元文化音樂舞蹈比賽等,以促進多元化社會的和諧與交流。其委員和會員皆為各國或民族之成員,巴西、智利、馬來西亞、新加坡、菲律賓、台灣、印度、伊朗、韓國、哥倫比亞等地方。
Haere Mai Taiko 日本鼓舞表演Haere Mai Taiko 舞太鼓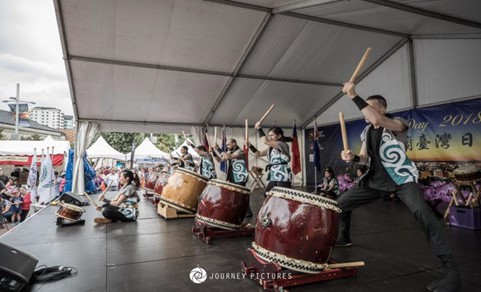 Haere Mai Taiko are dedicated and passionate performers of Japanese taiko music, based in Auckland, New Zealand. The strong, resonant sound of the Japanese taiko (or wadaiko) is a staple part of festivals, ceremonies, and celebrations held throughout Japan. Haere Mai Taiko has been bringing this art form to New Zealand audiences since 2004, and are honored to perform music written by some of Japan's most celebrated taiko composers. Haere Mai Taiko perform at many varied events throughout New Zealand including NZ Taiwan Day events.
創立於 2004 年,演出以「日本鼓」為主體並向外延伸各類藝陣文化,憑藉著一份對於傳統表演藝術的熱忱與堅持,積極開創多元藝術結合,並以「專業、精緻、創藝、傳承」為團隊主要宗旨,在不失傳統精神主軸下,同步融入現代美學概念創新思維,不斷要求演出的精緻化與特殊性,逐步漸進,開拓團隊未來日本鼓舞的特色風格。
舞太鼓曾多次在紐西蘭各類大型活動演出獲得熱烈迴響,2023 年臺灣日也非常榮幸再次邀請到舞太鼓為大家帶來震撼精彩的日本鼓表演!
Mandarin Drama Play by Chi Yuan Education Centre 啟源教育中心華語話劇表演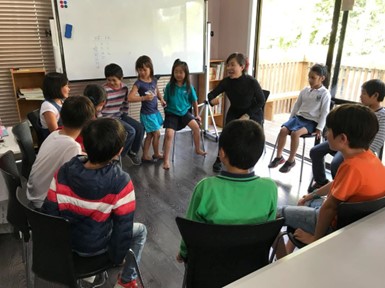 1. The first program is "Wait a minute", performed by Huang Jihui, Huang Jifeng, Mi Qijieen, Xu Aili, and Zhou En. Let's see what happened to the children who kept saying "Wait a minute"?
2. The second program is "One Apple Is Missing". Why is there an apple missing? Let the two brothers and sisters Sima Tao and Sima Li tell us!
3. The third program is "Ordering", which is a short story that happened in a restaurant. Let us see how they order? Welcome Boro Ann, Michel Payne, Ava Hsu and Michel Horn.
以下3個話劇表演節目,由啟源教育中心的小朋友擔綱演出;
1. 第一個節目「等一下」:由黃繼輝、黃繼鋒、米其杰恩、徐艾莉、周恩共同演出,我們來看看一直說
「等一下」的小朋友最後怎麼了?
2.第二個節目「少了一個蘋果」:怎麼會少一個蘋果呢?讓司馬濤、司馬黎兩兄妹來告訴我們為什麼吧!
3. 第三個節目「點菜」:這是一個發生在餐廳的小故事,讓我們看看柏柔安、米其沛恩、徐艾娃和米其浩恩他們到底是怎麼點菜的?